How works
sexywebcam?
Sexywebcam is a broadcasting platform. You will access to hundreds of webcam models via Internet. But what is really special and amazing about Sexywebcam is that all the gorgeous Sexywebcam models are 100% amateurs. They broadcast their live shows from their own home!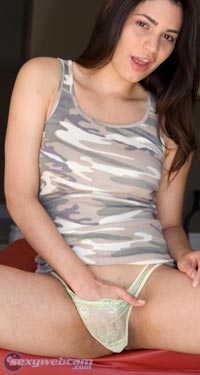 Imagine a girl from Barcelona, alone in her room, in front of her PC, and very, very hot. She's been playing with herself for a while, she's randy…And at this very moment, you are breaking in her room through the videochat and you ask het to get her clothes off, slowly, little by little, not hurrying… You can hear her sighing. She asks you what you are doing while she unbottons her shirt. And you can see how her nipples are getting harder, how she thrills, you almost can feel her breath and feel her sweat …oohh… Fantasy is good but live experience is better!
It's very easy to use. In this page: Home check the board Last connectionsSexywebcam Models. Click on any photo and you'll access to the model personal web page with all kind of details about her: Personal Gallery with plenty of photos and videos. You can also check if she's broadcasting in this moment, access to her Live Videchat, and interact directly with her!
Sexywebcam is available 24 hours/day. At any time, whenever you fancy, you can enjoy a 100% real live sex. Make your hottest fantasies real thanks to the best video and audio quality with The sexiest models. Sexywebcam models are only waiting to do your bidding! Just let you fantasy take control. To get the live videochat with Sexywebcam models started and enjoy all the exclusive contents we have prepared for you, you just need to log in the Sexywebcam Private Zone.
The Private Zone is very easy to use and similar to the free public zone (where you are at this moment); but the difference is that in the Private Zone has unlimited access to the Live Videochat and the entire exclusive hot contents. The Free public Zone is only a very small sample of what you could get. You can't even imagine all the things you are about to watch and experience in the Private Zone..
Sexywebcam is running with the highest and latest technology. It has been designed and developped to provide you with the best quality and easy-to-use service; An Internet connection and standard navigator with Adobe Flash and Javascript will do. There's no need to install or download any other suplemnetary software (Java, Quicktime, Real, etc.) to acess and enjoy with the Sexywebcam most beautiful and astonishing models.