would you like to be
a model on sexywebcam ?
You are sexy, horny, and have a sort of flasher side, some free time and eager to get great earnings… Then you are the perfect candidate to become the new Sexywebcam Top Star!!
Sexywebcam will set for you your personal Web Page. We supply you with all the most powerful and easy-to-use tools to publish your contents: photos, vídeos, your diary… all you need to expose your sensuality and seduceSexywebcam members.
You should know that Sexywebcam speciality are live shows; You choose your own show style. You can do it on your own, or together with one or some of your friends, either boys or girls. You decide! Our members will watch only what you are willing to show them. The secret is to spice up your performances with lots of erotic fun and fantasy. Think of how you would like a Sesywebcam model to be… and simply become that model! Always remember that 100% of Sexywebcam members are seeking for sex, so don't let them down.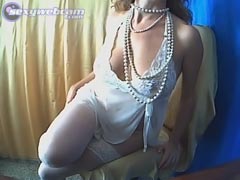 The secret for a good Sexywebcam videochat session, is a funny and hot conversation, together with your best webcam images. Give your best,and get them crazy!!
Let's talk about money! It all depends on how much time you will be performing and the passion invested in your live shows. But as an average, Sexywebcam models earn 2.400€ by month!!!
To start broadcasting as a Sexywebcam model, you just need a PC, a webcam and an internet connection (High speed, DSL or similar). Once we have received and processed your sign up form, we will send you by e-mail the information you may need and password to begin broadcasting as a Sexywebcam model. And the best of it all is that it's absolutely free for you.
You just have to fill in the sign up form, read tips from other sexdywebcam models and in no time you'll become the new Sexywebcam Star.